This Hair Length Chart offers you a unique method of measuring your hair. We offer you the fanciest and most stylish hairstyles based on different hair lengths.
This is a basic guide that will assist you in determining the length of hair that would look the most flattering on your face, and we have also included some useful hints on how to style the various lengths of hair.
The secret is to make sure that you are dressing in a way that is consistent with who you are as a person. Choose one of the shorter hairstyles if you have a bold personality and like being the center of attention. Try one of our longer designs if you like to be less noticeable and are looking for a way to blend in with the crowd.
Table of Contents
Importance of Hair Length Chart
Now that you know how fast hair grows, we can discuss why the Hair Length Chart is so important. You've realized that cutting your hair too short can make it hard to style, and it would take a long time for it to grow back.
Also, there have been plenty of times when you've asked for your hair to be a certain length but ended up with something shorter. This happens because people need to talk to each other more and understand the hair length chart well.
The Hair Length Chart is the best way to ensure your stylist understands you and gives you an exact look you want. Also, if you know a lot about the Hair Length Chart, you'll be able to make the right choice when trying out new hairstyles and to make plans for them.
Factors to consider before selecting a hair length
Hair Type
If your hair is naturally straight, each strand will look as long as it is. But if your hair has waves or curls, it might look shorter than it is. This is because the way your hair curls and kinks can make it look a little shorter. If you have textured hair, ask for a cut that is slightly longer than the length you want.
Face Shape/Structure
Some haircuts look better on certain face shapes than others, so you must figure out which one is best for you before you get a new length. Click here to see our full guide on how to find the best haircut for your face shape.
Hair Goals
If you want your hair to reach your waist, you won't want to cut six inches off of it.
How would you describe the length of your hair?
We know nothing is as scary as sitting in the stylist's chair and being asked how much length you'd like to cut off. A hair length chart can help you figure out what length you want. You can also use this to tell your stylist exactly what you want to happen.
Also, before you go to the stylist, you should find a picture or two that shows what you're looking for. Keep scrolling to see a chart with more information about each hair length. Continue reading and find out the hair length chart hairstyles and for chart hair length guide.
Hair Length Chart for Long Hair
It is said to be long when your hair goes past your shoulders. You can cut your hair to the middle of your back or let it grow long enough to reach your tailbone.
Tailbone Length
You won't have hair that goes down to your ankles, but you can have long hair that goes to your tailbone. Get the Extreme Length Shampoo and Conditioner with Biotin system if you want your hair to stay strong as it grows out. With this shampoo and conditioner, damaged hair gets stronger and grows longer and stronger.
Mid-Back Length
Swish your hair and act like you're an Instagram model while taking selfies. This length, called "mid-back," is popular and looks great on thick, coarse hair. Adding a shine serum or hair oil will make you look like a goddess. This formula is made with five expensive oils to make your hair shine and feel healthy.
Hair Length Chart for Medium Hair
Armpit Length
If you're growing out your hair and just got past the awkward stage, you've reached armpit length. This haircut is a favorite among girls with curly hair because a few extra inches make curls look even better. If you want to try something new with your style, go for armpit length.
Shoulder-length
These cuts look good on everyone (think the lob or a modern shag). These haircuts are between bobs and long hair, so you can pick the best parts. Plus, it's the perfect middle ground when you're growing out a buzz cut or pixie cut.
If you get a cut with many layers, use a texturizing spray like Matrix Style Link Texture Builder Messy Finishing Spray to add to your natural texture. This aerosol spray protects hair from frizz, gives it a light texture, and holds it in place.
Hair Length Chart for Short Hair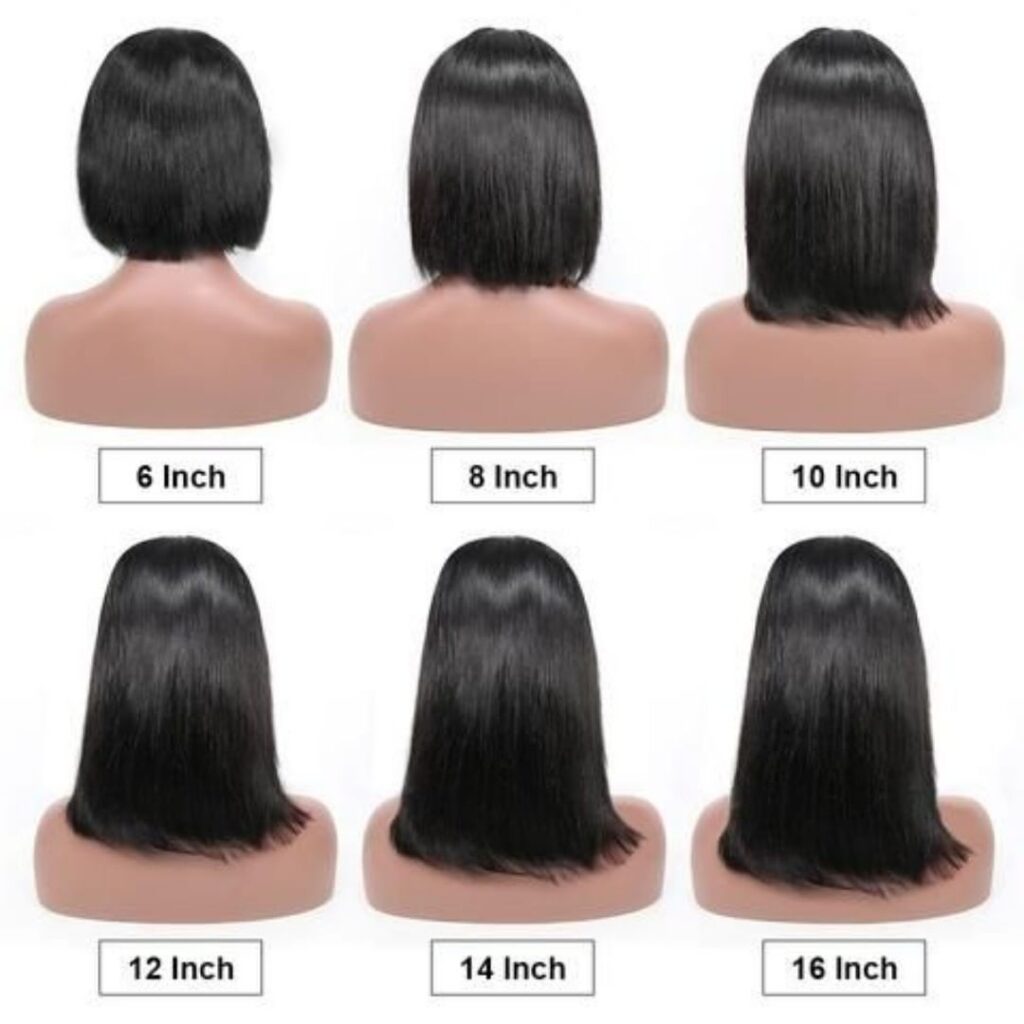 Bob Cut
The classic bob, also called chin-length hair, should fall right at your jawline. Try an asymmetrical bob for more drama, or go for a French-inspired style that makes you look more put-together.
Buzz Cut
They are good for girls who want to look cool and want to spend less time styling their hair. Add some flair to your look by coloring your hair a crazy color. This cut is all about the right to say what you want.
Pixie Cut
If you have amazing bones that you can't wait to show off, a pixie cut or ear-length cut is a great way to do it. Curly-haired girls will find that it makes their curls stand out without extra work. The pixie cut is hard to beat when it comes to classic hairstyles that never go out of style.
What is a measuring side?
When you hear it, you may question what this word means and what it has to do with the Hair Length Chart. A Measurement Side is the side of your face used to determine the length of your hair. For the three primary length categories, it is to measure your hair from three sides of your face.
Short hair's length is measured from the side of the face in front. Your hair is considered short if it does not reach your collarbone.
For medium-length hair, use the sides. You have medium hair if your hair covers your shoulders but does not reach your armpits. For lengthy hair, you would utilize your back. If it extends over your armpits, it is considered long hair.
Side Measurement for Medium Hair
Once you figure out that your hair does cross your collarbones but hangs higher than your elbow, pull your hair straight down the sides to find the measuring point.
You'll put your medium-length hair into the right sub-categories based on how far down it goes. With this, it will be easy to show how long your hair is.
Back Measurement for Long Hair
Long hair is hair that goes past your elbow or the middle of your back. Some people with long hair even divide it into two parts: long and very long.
Most of the time, very long hair goes over the hips. You can generally call your hair "long" if it's anywhere from waist-length to ankle-length, with different lengths from 28″ and up. The easiest way to find out how long your hair is without pulling and measuring with tapes is to use measurement sides. You can do this in front of your mirror.
This method should save you a lot of time and help you understand exactly how long someone's hair is when they say it reaches a certain part of their body.
Front Measurement for Shor Hair
If your hair is shorter and doesn't reach your collarbone, pull it all the way down the front of your face to see where it ends.
Hair Length Chart for Hair that is Wavy, Curly, or Kinky
From the Hair Length Chart, you can get an idea of how long your hair is. Even though this isn't exactly right, it's pretty close.
Straight and curly hair is about the same length, but curly hair can lose up to 5% of its length when measured this way because of how it grows.
So, compared to the length of Straight Hair, you need to add an extra 2–4 inches (5–10 cm) to make up for the length that curls take away.
FAQs
What is normal hair length?
It can go up to 12 inches for straight hair and 14-16 inches for waves and spirals. Medium hair is 12-18 inches long from the shoulder to the armpit for straight strands and up to 24 inches long for curly strands. Any hair that is longer than this length is considered long.
What length of hair makes you look younger?
Forget what you believed about having long hair after age 40—thick hair looks fresher and more polished when it is shoulder-length or longer. Shorter hair tends to spread at the ends, creating an unpleasant triangular look.
Which length of hair is best?
Your facial shape, style, and styling time determine the best hair length.
Short hairstyles extend round faces. Medium-length hairstyles balance oval faces. Longer styles will soften your chin and jawline if you have an angular face, so try both. Make sure whatever length you choose is easy to manage!
Conclusion
Hopefully, this chart has dispelled some of the ongoing hair length myths. The truth is that there are no hard and fast rules regarding hair length. Your hair is a reflection of yourself; do with it what you will, and don't let society dictate what's "in" or "out."