A Chicken and Broccoli Casserole is a delectable dish that can be prepared in just one pot and is guaranteed to become a household favorite. Adding a new dish to your collection of go-to favorites is always a good idea. Chicken and Broccoli Casserole is created with a creamy white sauce, shredded chicken breast, and broccoli and served over noodles.
A chicken and broccoli casserole is a cheap and substantial alternative to turkey that you may want to consider making if you host Thanksgiving dinner at your house this holiday season or if you are looking for a new dish to spice up your next meal.
Table of Contents
What is a Chicken and Broccoli Casserole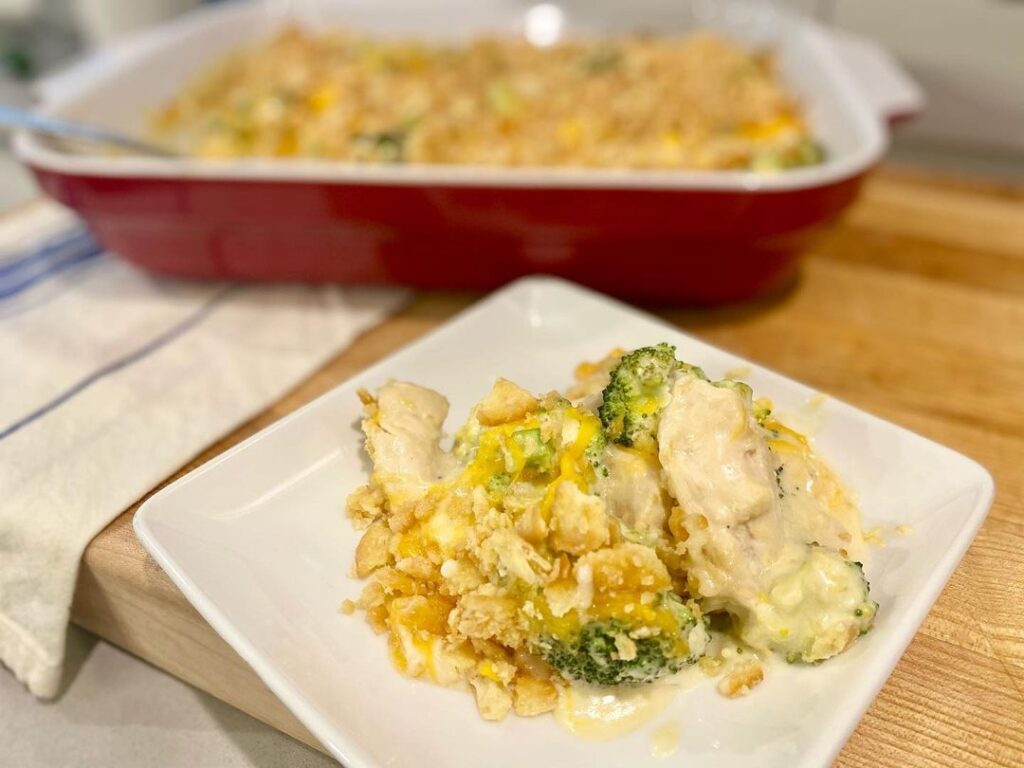 A chicken and broccoli casserole is a meal that is consumed in a variety of places all over the globe. It is a food that is often eaten for lunch or supper, but it is also something that may be offered as a side dish at dinner. This dish may be found in many different forms.
The broccoli and the chicken used in this meal are cooked in separate batches before being combined with the cheese and the other ingredients to form a sauce that is then used to coat the whole surface of the dish. Heavy cream or milk, together with eggs, flour, butter, and other spices, are the components that make the sauce.
A chicken and broccoli casserole is a time-honored recipe that is ideal for serving at formal dinner parties and casual get-togethers with the family. The broccoli and the chicken are both cooked simultaneously, resulting in the creation of a flavorful and decadent sauce for the meal. You can serve the meal with mashed potatoes, roasted potatoes, or rice on the side.
Steps to make chicken and broccoli casserole
Put the oven on to preheat at 350 degrees Fahrenheit.
Prepare a baking dish with a capacity of 2 quarts by greasing it with butter or cooking spray and setting it aside.
In a large saucepan, melt the butter until it becomes foamy. Then add the onion and garlic and simmer for approximately 4 minutes, stirring regularly, until the onion and garlic are tenders. After adding the flour, continue cooking for a further minute while often stirring to avoid the formation of lumps.
Add the milk and whisk until smooth. Bring to a boil over medium heat and continue cooking, often stirring, until the mixture is sufficiently thickened to coat the back of a spoon (approximately 3 minutes).
Take the pan from the heat and toss in the cheese until it has melted, then season to taste with salt and pepper (be careful not to add too much salt at this point because the casserole will have cooked chicken added later). After adding the cooked chicken and broccoli florets and giving the mixture a good toss, pour the mixture onto the baking dish that has been previously prepared.
Place in the oven and bake for thirty minutes, until thoroughly cooked and the top is golden brown!
Serve warm with your preferred side dishes, or enjoy it on its own!
What is cheesy chicken broccoli and rice casserole
A cheesy chicken, broccoli, and rice casserole is a dish that may be cooked in the oven to provide a complete dinner. It is prepared in a casserole dish before being placed in the oven and roasted until the chicken is fully cooked and the rice has soaked up the cheese sauce. This recipe's flavorful mix of chicken, broccoli, and rice is sure to please.
The broccoli is allowed to burn or get very bitter once it is introduced at the end of the cooking process. This dish's widespread appeal may be attributed to the fact that it is a low-cost supper that can accommodate a large number of diners all at once.
You may prepare this recipe by placing the components into a casserole dish and then baking them together. If you want to increase the amount of protein in the dish, you can also use meatballs in the preparation.
Cheesy chicken and broccoli casserole
This delicious recipe is put together with shredded chicken, broccoli florets, and a creamy sauce that's produced from the cream of mushroom soup. It's the ideal strategy for encouraging your children to consume their vegetables.
The greatest aspect of this dish is that it can be prepared in less than twenty minutes.
Curry chicken and broccoli casserole
A curry chicken and broccoli casserole is a dish that is not only tasty but also quite simple to prepare. Because the recipe asks for items you almost certainly already have in your refrigerator and pantry, it is an excellent choice to make when you are pressed for time or want to put something together quickly. Additionally, if you're searching for a method to increase the number of veggies in your diet, this is an excellent option.
The dish asks for curry powder, a fragrant spice mix often used in Indian cooking. Traditionally, turmeric, coriander, cumin, fenugreek seeds, ginger root, cinnamon sticks, black peppercorns, and cardamom pods are used in curry powder. Before being used in the meal as a component of its taste profile, the spices are first pounded into a powder and then combined.
The actual dish is made up of bite-sized chunks of chicken breasts, broccoli florets, tomato paste (1/2 cup), water (1/3 cup), flour (1/2 cup), and milk (1 1/3 cup). All of these ingredients are chopped into little bits. These components are mixed in a safe dish for the oven before being placed in the oven at a temperature of 350 degrees and cooked until the top is golden brown.
FAQs
What is chicken and broccoli sauce made of?
A tasty and flavorful sauce, chicken and broccoli sauce generally consists of chicken and broccoli as its primary ingredients. After boiling the two components together in a saucepan with various spices, the sauce is prepared by filtering off the solids to produce a thick and velvety consistency.
Is chicken rice and broccoli healthy?
Yes, broccoli and chicken rice are healthy. Chicken rice is a popular Asian cuisine composed of steamed white rice, chicken, veggies, and various condiments such as soy sauce or fish sauce. It is a staple cuisine in Chinese-speaking countries such as China, Japan, Vietnam, and Korea.
It is often consumed raw or prepared as part of meals and snacks. It is also used to prepare soup and other hot or cold foods.
How do you make a bland chicken casserole better?
You need to add something to the recipe that will give the chicken casserole some taste to improve it if it is currently flavorless. For instance, add garlic, mushrooms, or onions to the dish. Substitute some herbs like oregano or rosemary in their place if you do not have those ingredients in your cupboard. To season the food further, salt and pepper may also be used.
Is chicken with broccoli good?
Consuming chicken and broccoli together is healthy. In addition to being low in calories, it is also an excellent source of protein. In addition, it is rich in vitamins A, C, and K, as well as iron, which is necessary to produce red blood cells in your body. The antioxidants found in broccoli are beneficial in the fight against free radicals. It also has vitamin C and folate, which are essential for maintaining a healthy immune system.
Conclusion
One of its most appealing features is that this dish may be prepared with relatively little effort. It can be readily thrown together, and you could even already have the components lying around the house.
Because you may use fresh, seasonal ingredients, Chicken and Broccoli Casserole is an excellent choice for supper during warm summer.
You may also prepare a large quantity, place the leftovers in the refrigerator, and then reheat them when you are ready to eat. This will save you from spending an additional half an hour preparing supper. Continue reading for the complete recipe, which is quite simple.