Have you ever heard about the facial cleansing brush? Many women have recently included facial cleansing brushes in their regular cleaning regimens. The fact that it offers advantages over other goods and resources doesn't explain why it's become so popular quickly.
Table of Contents
What is a facial cleansing brush?
Using a facial cleaning brush, you may clean your face of grime, oil, and makeup. It may clean your pores and massage your skin in one simple motion. While some may prefer to use the brush with a face cleanser or soap, others may find that it does the job well on its own.
Use a facial washing brush to exfoliate the skin, removing dead skin cells and reducing the likelihood of breakouts. Because they massage the skin and increase circulation, they are also useful for minimizing the appearance of acne scars.
Choose a brush with gentle bristles to avoid irritating your skin if you suffer from sensitive skin or rosacea. Additionally, women love beautifying themselves may it be in the form of surgery such as lip fillers, eyebrow enhancement or even their hair to boost self-esteem.
How to use a facial cleansing brush in 5 steps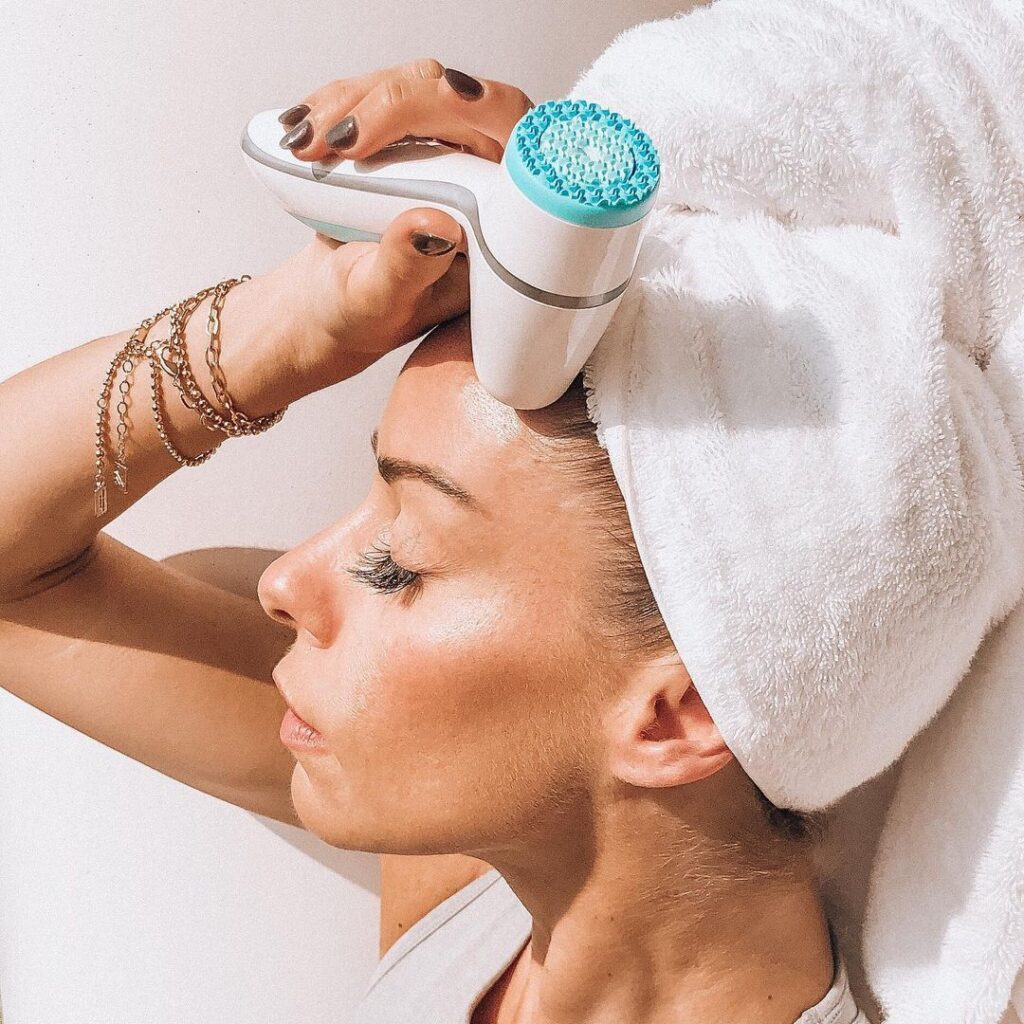 Here are the 5 steps on how to use a facial cleansing brush
Step 1: First, one must wash their face before using a facial cleaning brush. Clean, healthy skin begins with a thorough cleansing routine, which will help you eliminate excess oil and impurities from your skin.
Step 2: Use a facial cleanser such as soap or washing cream and rinse your face with warm water.
Step 3: Massage the cleanser into your face in circular motions for 30 seconds to 1 minute. This will help open up the pores of your skin, then enable the product greater access deep inside them.
Step 4: Before using the facial cleansing brush again, rinse your face with warm water to remove any leftover cleanser. You may gently use a cotton ball or pad to wipe away any remaining residue.
Step 5: Moisturize or use a serum to prevent your face from drying out while using the brush.
Benefits of facial cleansing brush
Using a facial cleansing brush is an excellent supplement to any existing skincare program. They make it easier to remove dirt and makeup, which contributes to the overall improvement in the look of your skin that this accomplishes. The fact that they also come with several additional advantages makes it worthwhile to use them.
It helps to remove makeup
It helps in the process of exfoliating the skin
It performs a thorough cleaning of pores
It increases blood flow to the surface of the skin
It assists in the reduction of blemishes.
Olay regenerist facial cleansing brush
The Olay Regenerist Facial Cleaning Brush is a dual-action cleansing tool that utilizes the technique of micro-massage to gently exfoliate, remove pollutants, and leave skin feeling healthy. The Olay Regenerist face-washing brush includes a motorized brush head and an anti-microbial bristle system. These elements work together to help remove debris from pore openings.
This powerful cleaning system helps to enhance the appearance of your skin by minimizing the look of fine lines and wrinkles, minimizing the size of pores, enhancing skin tone and texture, brightening skin tone, and providing you with the ideal basis for applying makeup.
Naturopathica facial cleansing brush
You may have clearer skin and a more radiant glow with the Naturopathica face cleaning brush. The brush's primary function is to clean your face of dirt, oil, makeup, and other blemishes without drying them out or aggravating them.
Its gentle massaging action while sweeping away debris makes this an ideal tool for anyone with sensitive skin. The brush has high and low speeds so that you may choose the best setting. Made in the USA from non-toxic materials, the Naturopathica face washing brush is suitable for anyone with sensitive skin or allergies.
Ultrasonic facial cleansing brush
A device known as an ultrasonic facial cleaning brush may be used to eliminate debris, oil, and dead skin cells from the surface of the skin. It works by vibrating at a high frequency using ultrasonic waves, which helps shrink the size of the pores on your face.
Because the ultrasound in this tool is comparable to that of a toothbrush, it can help in removing debris from the pores without causing them to get damaged in the process. The extra keratin on your skin, which may contribute to acne and other skin issues, can also be removed using ultrasonic waves.
It has been shown that using an ultrasonic facial washing brush is an efficient method for eliminating dead skin cells from the topmost layer of your face.
This helps prevent premature aging and enables you to maintain your youthful look for longer periods than would otherwise be possible. This device gives you micro massages, which increase circulation throughout your body and help stimulate new cell development on your face.
Additionally, it helps promote new cell growth on your face. Because of the high frequencies at which these micro-massages vibrate, they may also increase your body's rate of metabolism while simultaneously lowering the amounts of stress that are present there (between 20Khz – 40Khz). This enables a greater flow of oxygen into each cell, which results in the cells working even more effectively than before!
Original facial cleansing brush by kashoen 1883
The Original Facial Cleansing Brush by Kashoen 1883 is the only brush you will ever need to maintain your skin's softness, clarity, and smoothness. You can get this brush here.
Boar hair is used to make the bristles, which are noted for their ability to remove dirt and oil from pores easily. The bristles are manufactured entirely from natural boar hair. In addition to this, boar hair is fantastic for removing makeup and delivering a thorough cleaning that does not irritate the skin.
Bamboo, a sustainable resource, is inherently hypoallergenic and antibacterial, making it a good choice for those with sensitive skin types. The handle is composed of bamboo. Because the handle is made of bamboo and is both sturdy and lightweight, it is very simple to move about the face while giving enough coverage.
This utilizes a patented sonic technology that enables the bristles to move faster than the speed of sound, producing an ultrasonic wave that works below the surface of the skin without causing any pain or discomfort. This technology was developed in 1883. This incredible brush can give your skin a deep clean in less than sixty seconds.
Vanity planet raedia facial cleansing brush
The Vanity Planet Raedia Facial Cleansing Brush is an ultrasonic facial cleansing brush that removes dirt and oil from your skin. This brush may be purchased on the company's website. In addition, it helps enhance blood circulation and cell renewal, both of which are beneficial in the fight against acne, acne scars, and other skin problems.
The Vanity Planet Raedia Facial Cleansing Brush has two replaceable brush heads: one is designed for regular usage, while the other is intended for a more in-depth clean. The bristles of the everyday use head are made of a gentle silicone that provides a light massage to the skin while effectively removing makeup and other surface pollutants.
Compared to the everyday use head, the deep cleaning head has denser bristles and is more effective at thoroughly cleansing the pores. The Vanity Planet Raedia Facial Cleansing Brush runs on AA batteries and includes two additional heads for use if one becomes damaged.
CLINIQUE Sonic System Purifying Cleansing Brush
This innovative new method of cleansing is brought to you by Clinique Sonic System Purifying Cleansing Brush. Because the head of the brush can rotate in all directions, you may get a deeper and more thorough clean on your face than you ever imagined was possible.
The bristles on the brush head of Clinique Sonic System Purifying Cleaning Brush are soft enough to be used on even the most delicate of skin types, and the head itself is composed of silicone, which does not bother the skin nearly as much as bristles may.
You won't need to worry about carrying a charger when you go out on the town or on vacation since the brush comes with its charging base, which allows you to power it up at home or in the office. You may use this cleansing brush daily, or you can use it just when you feel like your skin needs a little bit of additional attention—whatever is most convenient for your lifestyle!
FOREO LUNA 3 Facial Cleansing Brush
Makeup, dirt, and oil can all be easily washed away with the help of the FOREO LUNA 3 Facial Cleansing Brush, which also provides a relaxing massage for your skin. The LUNA 3 has two speeds; you choose what works for you, and the silicone contact points aid in exfoliation. The LUNA 3's ergonomic design and compact dimensions make it a breeze to use with just one hand, and the wide range of motion ensures that no part of your face is left untouched.
The LUNA 3 is versatile enough to be used in the morning for a fast wash or at night before bed since either dry or wet skin may be used with it. The LUNA 3 has an automatic shutoff option after 45 seconds to save battery life between usage, although it may be switched off manually if preferred.
The LUNA 3's Standard brush head contains soft bristles for even the most delicate skin yet is sturdy enough to remove even the most tenacious makeup. Gentle for sensitive skin, daily care for normal/mature skin, and exfoliating (for oily/blemish-prone skin) replacement brush heads are all available.
Disadvantage of facial cleansing brush
The fact that you need to change the brushes after each use is the primary drawback of using face washing brushes. After some time has passed, the bristles on the brush may get worn down and need to be replaced. This is often done with a fresh head on the brush.
People with sensitive skin or skin prone to acne may find it challenging to utilize a face washing brush. This is another downside of using a facial cleansing brush.
Cleansing brushes for the face have a reputation for being very rough on the skin, which might irritate existing acne in certain individuals. The fact that they are often more costly than other kinds of face washes or cleansers is another drawback of these products.
FAQs
Are facial cleansing brushes good for skin?
Yes, removing dead skin cells, grime, and oil from your face may be accomplished effectively with a facial washing brush. They enhance the health of your skin by removing all of the debris that might accumulate on your face, which prevents buildup and improves circulation.
Do dermatologists recommend facial cleansing brushes?
Facial washing brushes are recommended by dermatologists, who are considered the foremost authorities on skin care. This is because brushes can efficiently remove oil and dirt from the skin. Removing dead skin cells using a facial cleaning brush also helps minimize the look of pores on the face.
Do facial cleansing brushes remove blackheads?
Yes, facial cleansing brushes can remove blackheads. The accumulation of excess sebum in the skin's pores is the root cause of blackheads. Using a face cleaning brush helps to thoroughly clean your pores and remove extra debris, oil, and dead skin cells that may be blocking them up. This is because the bristles of the brush are shaped like tiny fingers.
What's the best tool to wash your face with?
A facial cleaning brush is the most effective way to wash one's face and neck. The dead skin cells and other pollutants on your face are removed by facial washing brushes, leaving you with a sensation that is both clean and revitalized. In addition to this, they assist in removing dead skin cells in the skin by the process of exfoliation. People with acne or skin prone to acne might benefit significantly from using cleansing brushes since these brushes assist in keeping pores clear and preventing breakouts.
Conclusion
They are great tools for cleansing. They are lightweight, making them simple to hold, and feature a gentle head that may be used to massage the face. Moving the brush over your skin helps remove dead skin cells, debris, and old oil that may build up on your skin and block pores. This happens as the brush goes over the skin.
A cleaning brush is something that I suggest getting for skin that is average to dry. Try using a makeup removal cloth if you have oily skin. They are simpler to apply than liquids and creams, they do not leave any residue on your face, and while they are cleansing your face, they will not clog your pores.
When looking for a brush to use to clean your face, there are many different factors to consider. Continue reading if you are curious about what they are and want to learn. An overabundance of dead skin cells and oils on the face may bring on problems like blackheads, pimples, and other blemishes.
Therefore, you must thoroughly wash your face at least once every day.
It would be best to wash your face the same way you shave, using shaving cream and a razor; doing so will help you get the most out of your facial cleaning brush. Shaving is an excellent analogy for how you should cleanse your face.