Nothing says fall like warm, comforting pumpkin treats. These Almond flour pumpkin muffins offer all the familiar flavors of classic baked goods but are made with a gluten-free option for those who need it. With nutty almonds and creamy pumpkins – each bite is so flavorful and delicious that you won't believe this recipe is both low-carb, low calorie and dairy free! So if you're looking for an autumnal treat to enjoy without feeling guilty, look no further – here's your go-to guide on making fluffy, soft almond flour pumpkin muffin from scratch.
Table of Contents
What is Almond Flour?
Almond flour is a popular gluten-free alternative to wheat flour. It is made from finely ground almonds that have been blanched and had their skins removed. Almond flour has great nutritional benefits, as it contains protein, fiber, vitamins, and minerals. Almond flour also adds a sweet, nutty flavor and moist texture to baked goods.
Ingredients
2 cups almond flour
½ teaspoon baking soda
¼ teaspoon salt
1 teaspoon ground cinnamon
½ teaspoon ground nutmeg
½ cup coconut sugar or brown sugar, packed
⅓ cup melted butter or oil of choice (coconut oil, avocado oil)
2 large eggs
1 cup pumpkin puree (not pumpkin pie filling)
¼ cup almond milk or other milk of choice
½ teaspoon pure vanilla extract
Instructions
1. Preheat your oven to 350°F and prepare a muffin tin with paper liners.
2. In a large bowl, combine the almond flour, baking soda, salt, cinnamon, nutmeg, and sugar.
3. In a separate bowl, whisk together the melted butter or oil of choice, eggs, pumpkin puree, milk, and vanilla extract until well incorporated.
4. Add the wet ingredients to the dry ingredients and mix until just combined.
5. Divide the batter evenly into the muffin tin liners, filling each one about ¾ full. Bake for 20-22 minutes or until a toothpick inserted in the center comes clean.
6. Cool completely before serving.
How to Make Almond Flour Pumpkin Muffins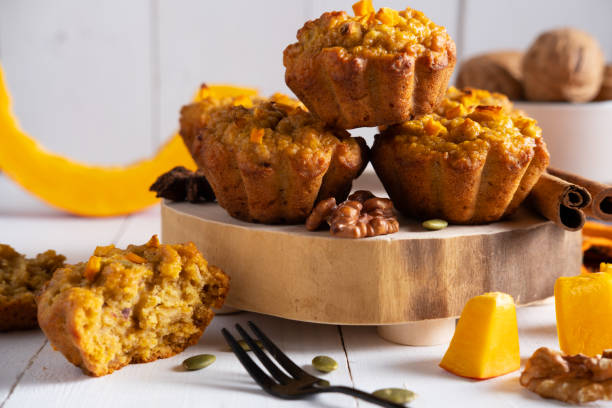 Almond flour muffins are an easy-to-make, healthy snack that is perfect for any time of the day. Almond flour is a great gluten-free alternative to traditional wheat flour and provides various health benefits. Combined with pumpkin, these muffins provide a sweet treat filled with fiber and vitamins. Here's how to make them:
Preheat your oven to 375 degrees Fahrenheit.
Mix 1 ½ cups of almond flour, two tablespoons of coconut sugar, one baking powder, and ½ teaspoon of salt in a large bowl.
In a separate bowl, whisk one egg until it becomes light and fluffy. Then stir in ¼ cup of pumpkin puree, two tablespoons of butter (melted), and one teaspoon of vanilla extract until everything is well combined.
Pour the wet ingredients into the dry mixture and mix until just combined. Do not over-mix.
Grease a muffin tin with either butter or non-stick spray, and divide the batter between 12 muffin cups.
Bake for 15 to 20 minutes until the muffins are golden brown on top. Allow them to cool before enjoying them.
How to Store Leftover Muffins
Leftover Almond Pumpkin Muffins can be stored in an airtight container for up to 3-4 days. Alternatively, you could store them in the fridge if you prefer a firmer texture. If freezing Almond Flour Pumpkin Muffins, wrap them tightly in plastic or parchment paper before placing them in an airtight container or freezer bag. When ready to eat, thaw Almond Flour Pumpkin Muffins at room temperature for 2-3 hours or microwave for 30-45 seconds.
How to Bake the Best Almond Flour Pumpkin Muffins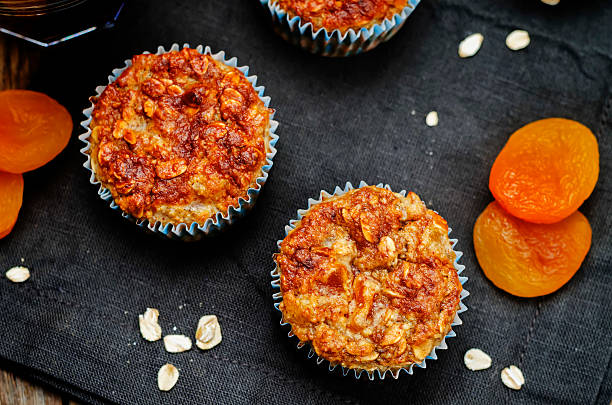 Nothing says autumn like the aroma of freshly baked Almond Flour Pumpkin Muffin! Our easy-to-follow recipe will have you enjoying these delicious treats in no time. You only need simple ingredients, such as almond flour, pumpkin puree, eggs, and spices. Follow along with our step-by-step instructions, and you'll be able to whip up a batch of Almond Flour Pumpkin Muffins for your family in no time.
To begin, preheat your oven to 350F (175C). Lightly grease a 12-cup muffin tin with butter or coconut oil. Mix the dry ingredients in a large bowl: two cups of almond flour, one teaspoon of baking powder, and a pinch of salt. Whisk together the wet ingredients in a separate bowl: one cup of pure pumpkin puree, three large eggs, and 1/2 cup of maple syrup or honey.
After all the ingredients are combined in their respective bowls, pour the wet ingredients into the dry mixture. Stir until all the ingredients are combined, but be careful not to over-mix. Then, fill each muffin cup about three-quarters full and top with a sprinkle of pumpkin seeds or cinnamon sugar (optional).
Place in the oven for 20–25 minutes until golden brown. Allow to cool before serving, and enjoy your Almond Flour Pumpkin Muffins! With this easy recipe, you can make a delicious batch of Almond Flour Pumpkin Muffins whenever the craving strikes.
Substitution Ideas
Substituting almond flour in traditional recipes can be tricky. Almond flour is heavier, denser, and far more absorbent than all-purpose flour. For best results when baking with almond flour, you should use a recipe specifically developed to work with almond flour or modify existing recipes.
When substituting almond flour for other flours in baking, a common rule is to use ¼ cup less almond flour than all-purpose flour. Almond flour can also be used as a partial substitution for other flours, such as whole wheat or rye.
For example, when making Almond Flour Pumpkin Muffins, you could substitute ¼ cup all-purpose flour with ¼ cup almond flour and reduce the sugar you use in the recipe. Almond Flour Pumpkin Muffins provide a great way to enjoy the pumpkin flavor without all the calories!
Almond Flour Pumpkin Muffins are a great option if you're looking for a delicious, low-calorie treat. Almond flour adds a delicious, nutty flavor that compliments the subtle sweetness of the pumpkin. With only a few simple swaps and dairy-free pumpkin muffins, you can create a muffin that is sure to please. Enjoy!
Storing Almond Flour Pumpkin Muffins
Proper storage is the key to maximizing the shelf life of Almond Flour Pumpkin Muffins. Almond flour is susceptible to moisture, so it's important to store and seal Almond Flour Pumpkin Muffins after baking properly.
For best results, store Almond Flour Pumpkin Muffins in an airtight container, like a food storage bag or plastic container. Almond flour has a high-fat content and can go rancid quickly if exposed to oxygen, so choose an airtight solution that won't allow any air in.
You can also freeze Almond Flour Pumpkin Muffins for up to three months. When doing so, wrap Almond Flour Pumpkin Muffins tightly in plastic to protect them from freezer burn. Allow the muffins to cool completely before freezing to maintain their freshness.
When storing Almond Flour Pumpkin Muffins, ensure you place them away from any strong smells that could migrate into them and affect their taste. Almond flour is especially susceptible to strong smells, so keep the Almond Flour Pumpkin muffin pan in a clean and dry area.
With proper storage, Almond Flour Pumpkin Muffins can stay fresh for up to five days when stored at room temperature or frozen for three months.
Almond flour pumpkin muffins FAQs
What do Almond flour pumpkin muffins taste like?
The Almond flour pumpkin muffin is a delicious and nutritious treat that tastes like a combination of sweet, nutty, and earthy flavors. The almond flour adds a delicate crunchiness to the muffin, while the pumpkin adds an unmistakable sweetness.
Are Almond flour pumpkin muffins healthy?
Yes! Almond flour is packed with minerals, proteins, and healthy fats. Paleo pumpkin muffins are also a good source of fiber and vitamins such as A, C, and E. Additionally, Almond flour pumpkin muffins are lower in carbohydrates than traditional wheat-based muffins, making them a healthier alternative.
What ingredients do Almond flour pumpkin muffins need?
Almond flour pumpkin muffins require almond meal flour, mashed pumpkin, eggs, baking powder, coconut oil or butter, honey or maple syrup, and spices such as nutmeg, cinnamon, and all spice. For an extra flavor boost, you can add other ingredients like dark chocolate chips and chopped nuts.
How do you make Almond flour pumpkin muffins?
Making Almond flour pumpkin muffins cool is easy! Begin by preheating your oven to 350°F and lightly grease a muffin tin with coconut oil or butter. Combine the wet and dry ingredients before folding any optional ones you wish to add. Fill the greased muffin tin with the batter and bake for 25-30 minutes. Allow the more almond flour recipes and flour pumpkin muffins to cool before serving.
Conclusion
I hope you have enjoyed learning how to make Almond Flour Pumpkin Muffins. You can create a delicious and healthy treat for yourself or your family with just a few simple ingredients. Almond flour is an excellent source of protein and fiber, and pumpkin is full of antioxidants and vitamins. Not only will you enjoy the flavor of this muffin recipe, but it can also be a great way to get some extra nutrition into your diet. Try this Almond Flour Pumpkin Muffins recipe today and see how tasty and nutritious it can be!